Municipal Themesong: Bugasong Palanggaon
MAY 9, 2016 ELECTIONS' FINAL OFFICIAL RESULT.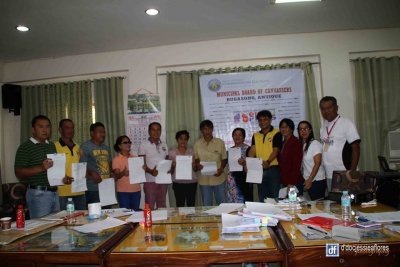 The following are the Final Official Result of the recently concluded 2016 National & Local Elections, Municipality of Bugasong.
MUNICIPAL MAYOR
Pacete - 9,023 (W)
Pesayco, J. - 6,392
MUNICIPAL VICE MAYOR
Dava - 6,972
Pacete - 721
Pesayco, B. - 7,213 (W)
SANGGUNIANG BAYAN MEMBERS
Antoy - 8,843 (4)
Arguelles - 2,621
Badoy - 3,959
Capendit - 9,147 (3)
Dela Cruz, Miray - 9,814 (1)
Dela Cruz, Toto Moroy - 8,365 (6)
Egcasenza - 889
Fruto - 7,750 (7)
Magabilin - 3,102
Maghari - 2,061
Maza - 3,505
Ostan - 3,093
Pediangco - 7,571 (8)
Pesayco Bing - 8,483 (5)
Pesayco Nene - 9,467 (2)
Reponte - 2,627
Sidayon - 6,063
Sitchon - 3,302


MORE PHOTOS HERE!
Visit and Like BUGASONG ONLINE on Facebook.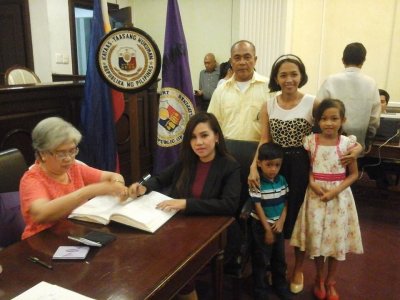 PRIDE OF BUGASONG IN 2014 BAR EXAMINATIONS
Another Pride of Antique! A Bugasongnon also conquered the October 2014 Bar Examinations in the name of Atty. May Flor Ebide Pacete of Barangay Bagtason, Bugasong, Antique.
Atty. Pacete is the daughter of Mr. and Mrs. Dionisio Pacete of the above-named place. She was once a student of Antique Vocational School, however, transferred and finished her studies in Iloilo City National High School and took Bachelor of Laws in the College of Law of the University of Iloilo, Iloilo City.
She is one among the 1,126 who bagged the said BAR Exams out 5,984 who took the examinations on October 2014
List of BAR Exams Passers
Photo Credit: Atty. May Flor E. Pacete's FB Gallery
Visit and Like BUGASONG ONLINE on Facebook.
HEART-POUNDING GAMES WITH TWICE TO BEAT ADVANTAGE
Final game between Bugasong and Laua-an, Secondary Level Boys, was held in the Municipal Covered Gym of Bugasong in connection with this year's Cluster 3 Meet with Bugasong possessing a twice-to-beat advantage over Laua-an.
A tight ballgame was witnessed by a multitude of basketball fanatics from both towns where it was dominated by Laua-an Team from 1st quarter until the final period with 100-93 as the concluding score.
Next game of the two-game series will be decided by Laua-an who beg to give them time to rest, which was subsequently granted by the Coach of Bugasong Team and the Management, for they have played more games than Bugasong Team who earlier advanced to the finals with no loss, thus, earning them the twice-to-beat advantage.
Earlier, another twice-to-beat basketball game was held between Bugasong and Belison, Secondary Level Girls, in favor of the latter, however, Bugasong was declared champion after beating Belison twice.
Cluster 3 Meet is participated by six towns in the central part of Antique namely, Belison, Patnongon, Valderrama, Bugasong, Laua-an and Barbaza.
Visit and Like BUGASONG ONLINE on Facebook.
Pawikan @ Sitio Inolingan
Ms. Philippines Earth 2014
Grow Old With You - Cover by EJ
Supermoon 2014 Using Powershot
Magic Waterpump - UnliWater
Sitsiritsit-Selected Teachers
Tig-ang Contest 2014 (Year 5)
ST Yolanda / Haiyan Hits Bugasong
LGU Bugasong Family Day 2013
Talentadong Teachers of Bugasong CS
LGU Bugasong Family Day 2013 - Videoke Challenge (Engr. Bantolo)
LGU Bugasong Family Day 2013 - Videoke Challenge (Vice Mayor JLMP)
LGU Bugasong - Family Day 2013 (Cheerdance Contest - Left Wing)
LGU Bugasong Family Day 2013 - Videoke Challenge
Magno M & da 2 Badings (Boxing Match)
LGU Bugasong XMas Party 07
Comedia (Komedya) - Full Length
AllStar Prod - Radio Guesting