BUNTIS ASSEMBLY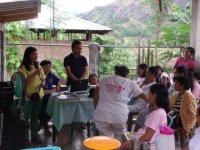 Bugasong, Antique. A Buntis Assembly was held at Barangay Pangalcagan, Bugasong, Antique through the effort of the Municipal Health Office, of the Municipality of Bugasong.
The Team was headed by the Municipal Nutrition Action Officer in the person of Mr. Jose Marie C. Barcelo, together with the Public Health Nurse, Ms. Janet C. Quiatson, the Sanitation Inspector I, Ms. Merly M. Flores, RN-Heals, Ms. Ricca Imari Bernardio, Ms. Khalleim Xavier and Ms. Sheena Andrea Vio, Municipal Scholar Ms. Sheila May O. Pamisan, and Rural Health Midwives, Ms. Rachel F. Antoy, BHS in-charge and Ms. Yvonne Panaguiton.
The group conducted orientation on pregnant women regarding breastfeeding, immunization, pre-natal care, environmental sanitation related diseases leading to malnutrition, family planning and complementary feeding. They also perform free hemoglobin testing on pregnant mothers.