MEMORANDUM OF AGREEMENT SIGNING FOR THE REHABILITATION OF COMMUNAL IRRIGATION SYSTEM IN BUGASONG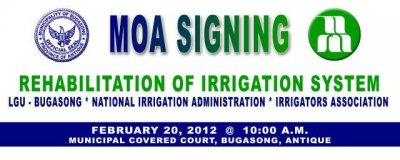 Bugasong, Antique. A Memorandum of Agreement Signing for the Rehabilitation of Irrigation System for various Communal Irrigation Systems (CIS) in the Municipality of Bugasong will be held at the Municipal Covered Gymnasium on Monday, February 20, 2012 between the Representatives from the National Irrigation Administration, LGU Bugasong and Representatives from different Irrigators Associations. This project aims to uplift the present condition of the irrigation system to supply a wider coverage of irrigation that will benefit most of our local farmers. The areas that will benefit for this project are Bugasong CIS (P30M), Pangalcagan CIS (P2,142,857.00), Igsoro CIS (P2,857,143.00), Cubay North CIS (P2,857,143.00) and Zaragoza CIS (3,571,429.00).
Expected personalities to attend the said occasion are: Engr. Ramon Alipis, Acting Division Manager, NIA; Engr. Bunnie Tuala, Chief of Operations and Maintenance, Engr. Julito Pameroyan, IDS Chief and Mrs. Grace Aquillo, Designate IRPEP.