GRAND OPENING OF ASSOCIATION OF DIFFERENTLY-ABLED PERSONS CANTEEN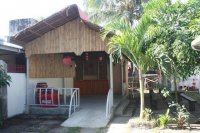 Bugasong, Antique. Grand Opening and Blessings of the new canteen managed by the Association of Differently Abled Persons (ADAP) is already set on February 14, 2012.
The structure was realized through the aid of the Department of Labor and Employment (DOLE) in the amount of Two Hundred Thousand (P200,000.00) Pesos and is now situated at the Municipal Food Court, Bugasong, Antique.
A program will be held on the said date to be led by the Municipal Mayor of Bugasong, Antique, Hon. Bernard N. Pesayco, Hon. John Lloyd M. Pacete, Municipal Vice Mayor, Mrs. Shirley T. Gilua, MSWDO together with some honored guests like Mr. Lazaro G. Petinglay, Provincial Social Welfare and Development Officer and a Representative from the DOLE Provincial Office.
The said project was realized through the effort of the current President of ADAP, Mr. Claro R. Castillo, Jr., together with the Vice President, Mr. Ben Dava. The rest of the officers are: Ms. Milagros F. Villeta, Secretary; Ms. Lily Fernandez, Treasurer; Mr. Carlito Reloj, Auditor; Ms. Ma. Fe Sañol & Romeo Ostan, Business Managers; Ms. Mariel Gallego & Ms. Normita Castillo, PRO.