NATIONAL WOMEN'S MONTH
The nation celebrates Women's Month in consonance with Presidential Proclamation Nos. 224 and 227 and Republic Act 6949 which provide the annual observance of the said activity every month of March.
In the same way, the Civil Service Commission issued Memo Circular No. 4 series of 2012 enjoining all government agencies and Local Government Units to celebrate the National Women's Month with a theme, "Women Weathering Change: Governance and Accountability, Everyone's Responsibility."
The celebration "shall focus on curbing the negative impacts of climate change and instituting measures at the national and local levels in order to reduce disaster risk and build resilient communities," as stated in the memo circular of the Civil Service Commission.
Copy of the Memorandum Circular No. 4, series of 2012 of the Civil Service Commission can be downloaded on this link: http://excell.csc.gov.ph/MC2012/mc4s2012womens.pdf
AFTER 6 YEARS IN HIDING,
VALDERRAMA COPS NAB MURDER SUSPECT
by: APPO (PNP-PRO6)
On March 1, 2012 at Sitio Barangkalan, Brgy. Takas, Valderrama, Antique cops arrested JOVY ALLO y HERIDA alias "Burning Allo", 27 years old, single and a resident of Brgy. Alon, Valderrama, Antique.
ALLO was arrested by Valderrama cops by virtue of a Warrant of Arrest for the crime of Murder docketed in Criminal Case Nr. 0830 issued by RTC6 Branch 64 Judge Hon. Rafael G Penuela on June 14, 2006 with no bail recommended.
Subject was tagged in the death of Jose Ike Banesio y Alarcon at Brgy. Cansilayan, Valderrama, Antique on November 8, 2005 and is held in custody of the said station prior presentation to court concerned.
Click HERE for more Police News
QUARTERLY DISTRIBUTION OF SOCIAL PENSION
TO SENIOR CITIZENS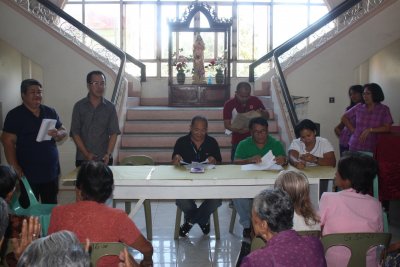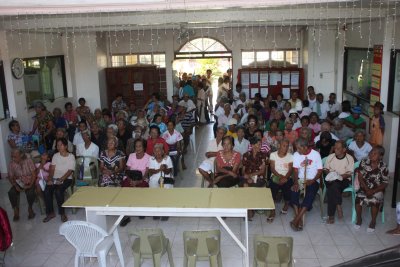 Bugasong, Antique. The Municipal Social Welfare and Development Office distributed Quarterly Social Pension to one hundred fifty four (154) senior citizens of the Municipality of Bugasong aged 77 years old upward. Each beneficiary receives Five Hundred (P500.00) Pesos per month with a total of One Thousand Five Hundred (P1,500.00) Pesos for the First Quarter. The MSWDO distributed a total of Two Hundred Thirty one Thousand (P231,000.00) Pesos this quarter.
Present during the distribution of the quarterly social pension to senior citizen beneficiaries are Mr. Noli Valenzuela, Mr. Dante Mijares and Mr. Alejo Voluntate, all Project Development Officers II of the Department of Social Welfare and Development Regional Office VI. Along with them is Ms. Flora Mae Palencia of KALAHI-CIDSS, Mr. Jose Allan S. Bartolo, Consultant on Special Concerns and at the same time Station Manager of Hot FM Bugasong 102.9, Mrs. Norberta P. Galvez, Mrs. Marjorie B. Alcallaga and staff of the MSWDO, Bugasong, Antique.
This program of the national government is a big help to senior citizens particularly on their medical needs.
Relic of St. Clare of Assisi
Clare of Assisi (sometimes spelled Clair, Claire, etc.) (July 16, 1194 – August 11, 1253), one of the first followers of Saint Francis of Assisi. She founded the Order of Poor Ladies, a monastic religious order for women in the Franciscan tradition. Following her death, the order she founded was renamed in her honor as the Order of Saint Clare, commonly referred today as the Poor Clares.
The relic is traversing different areas in the country and stayed in various dioceses. Recently, the vestige of St. Clare visited the Diocese of Antique and a mass was held at Saint Joseph Cathedral, located at the capital town of the province, San Jose de Buenavista, Antique. The mass was attended by a multitude of devotees coming from the different towns of the province. The relic then transferred to St. Peter Seminary in San Pedro, San Jose before leaving back to Iloilo City.